AirAsia Making COVID-19 Test Packages from Leading Hospitals Available Starting at Only 490 THB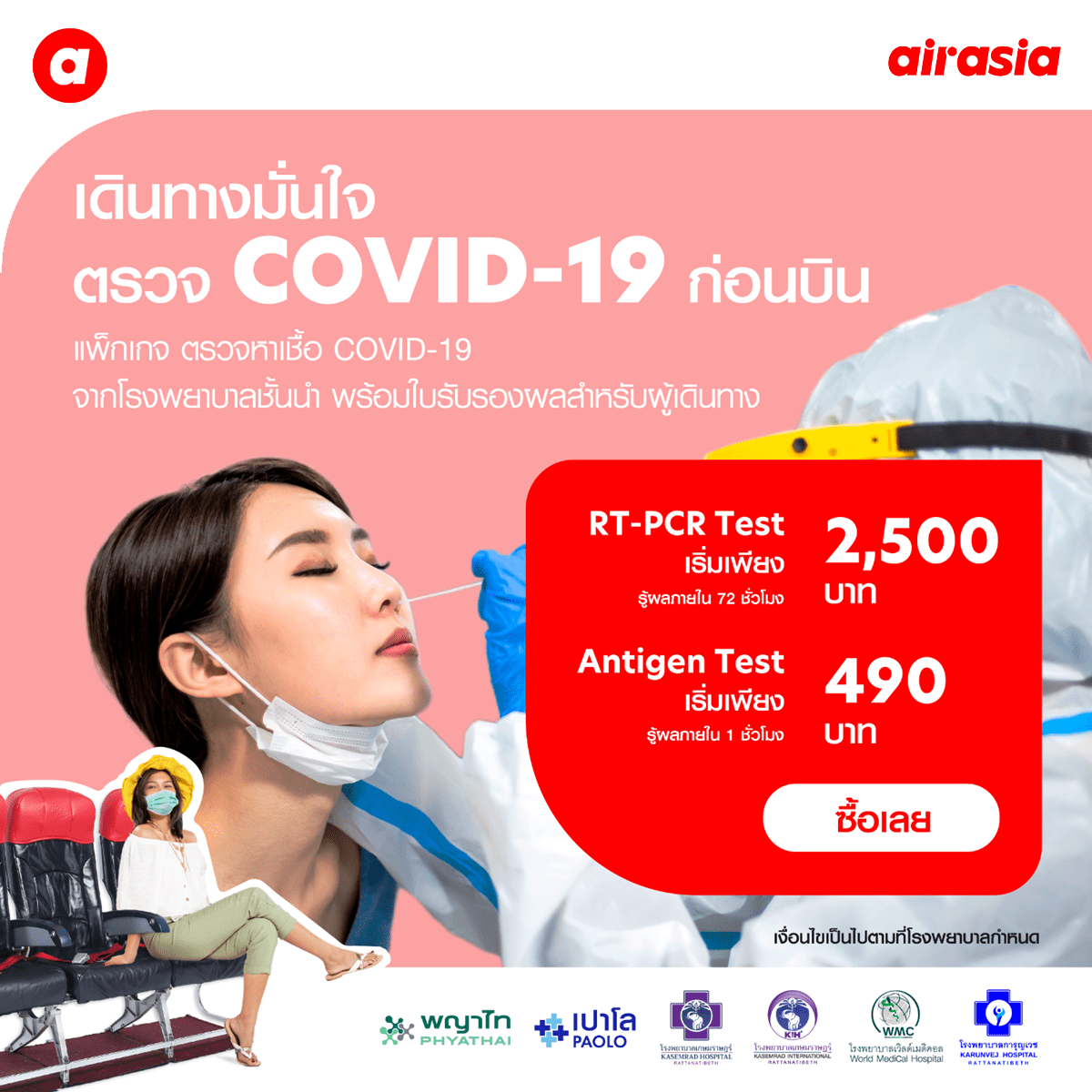 BANGKOK, 12 October, 2021 - AirAsia is providing even more convenience and saving to customers through its collaboration with leading hospitals that offers COVID-19 test packages available at special prices while they book through the airasia Super App and the website. The latest move is aimed at adding further channels for purchasing COVID-19 test packages, making RT-PCR tests available from only 2,500THB (results in 72 hours) and Antigen tests available from only 490 THB (results within 1 hour). In partnership with Phyathai Hospital Group, Paolo Hospital Group and Kasemrad Hospital Group, the packages with special prices are available for purchase from today to 31 December, 2021 in support of guests receiving necessary travel documentation.
AirAsia Thailand Chief Executive Officer, Mr. Santisuk Klongchaiya said, "We are happy to be offering convenience to our guests and others, who need to submit proof of vaccination or negative COVID-19 test results along with other documentation issued by hospitals and public health offices at check-in as per requirements of destination provinces. This is all the more crucial now that air travel has begun returning following a relaxation in travel restrictions. Passengers are still required
"Travelers will be able to choose from a total 18 hospitals under the Phyathai, Paolo and Kasemrad brands, selecting their most convenient date and location and to receive their results in a Digital Medical Certificate for use during travel," Mr. Santisuk added.
Even customers without travel plans can purchase the packages that are priced at 2,500 THB for a RT-PCR test and starts from 490 THB for an Antigen test. Details can be found at www.airasia.com and on the airasia super app. Terms and conditions will be according to each hospital, and AirAsia recommends that guests review the requirements of their destination at www.moicovid.com/ข้อมูลสำคัญ-จังหวัด/ before every journey and to allot extra time at the airport to ensure proper passage through health checks.
---