AirAsia BIG SALE Offers Flights from 0 THB*! Book now via airasia Super App
Over 4 million seats on domestic and international flights

South Korea and Japan (XJ) flights start from only 4,590 THB per trip

SNAP (Flight + Hotel) discount up to 50% with more deals for other airlines and flight add-ons . Book via airasia Super App this 25-31 July, 2022
BANGKOK, 25 July 2022 - The 0 THB promotion is back! Fly domestic and international with AirAsia from 0 THB as well as find deals on SNAP (flights + hotels), hotels and other airlines by clicking this https://app.airasia.com/F4uy/vsmmubob 25-31 July, 2022
AirAsia Flights, SNAP & Hotels
AirAsia 0 THB* seats are available for travel between 1 October 2022 and 28 October 2023. Click on the 'Flights' icon on the airasia Super App and choose your desired route, whether domestic to Chiang Mai, Krabi, Phuket and Hat Yai or internationally to the Maldives, India, Singapore, Phnom Penh, Ho Chi Min, Hanoi, Kuala Lumpur, Bali and much more.
Long haul flights are also available from Thai AirAsia X (XJ). Fly Bangkok (Suvarnabhumi) to Seoul, South Korea or Tokyo, Osaka or Sapporo of Japan from only 4,590 THB per trip (inclusive of duties and fees).
SNAP deals for domestic and international routes with stays at renowned hotels are also available with discounts up to 50% for travel between 1 October 2022 and 28 October 2023, or 30% off deals when booking a hotel separately by clicking 'Hotel' in airasia Super App.
Karen Chan, Group Chief Commercial Officer of AirAsia, said "This is our first Big Sale after borders re-opened and we are very excited to bring back the 0 THB* promotion. This has always been a highly-anticipated sales event for AirAsia customers. We have relaunched more routes to provide guests with greater choice and will be adding new routes in the second half of this year, so please do take advantage of the 0 THB* promotion offering over 4 million free seats across our AirAsia flight network - for business or leisure!"
Flight Add-ons
Passengers get 30% off Xtra Carry On up to 14 kg when flying on AirAsia.
Other Airlines
Being a regional Online Travel Agency (OTA), airasia Super App offers flights to London, Istanbul, Dubai and many more destinations with its over 100 partnered airlines, including Etihad Airways, Turkish Airlines, Saudi Airlines and Japan Airlines. Easily book a seat on airasia Super App using code "50OFFTH" during payment to receive an immediate 400 THB discount. The code is valid 25-31 July, 2022.
Michele Mattotti, Chief Marketing Officer, airasia Super App, said, "The airasia Super App is the exclusive booking platform for the highly-anticipated 0 THB* promo, and we are proud to also support this with many other offerings from our robust airasia ecosystem. If you are looking to travel beyond the AirAsia network, the airasia Super App OTA platform has flights from over 700 airlines globally, and more than 700,000 hotels on sale throughout this same sales period. Download your airasia Super App today, and don't miss out on all the best deals during this BIG Sale!"
Members can also earn airasia points for all their purchases on the airasia Super App, from flights and hotel stays to food delivery, parcel service and rides. Airasia points can be used like cash to purchase further services. Get five times the airasia points when booking on Saturdays and Sundays in accordance with terms and conditions.
Get the latest news and updates on E-Commerce services offered on airasia Super App by following @airasiasuperapp on Instagram and Facebook. For daily convenience in the New Normal, download airasia Super App from the Apple App Store and Google Play Store.
*Note: The 0 THB promotion is exclusive to FD flights and has limited availability. Promotional prices exclude airport tax, fuel surcharge and other applicable fees. Terms and Conditions apply.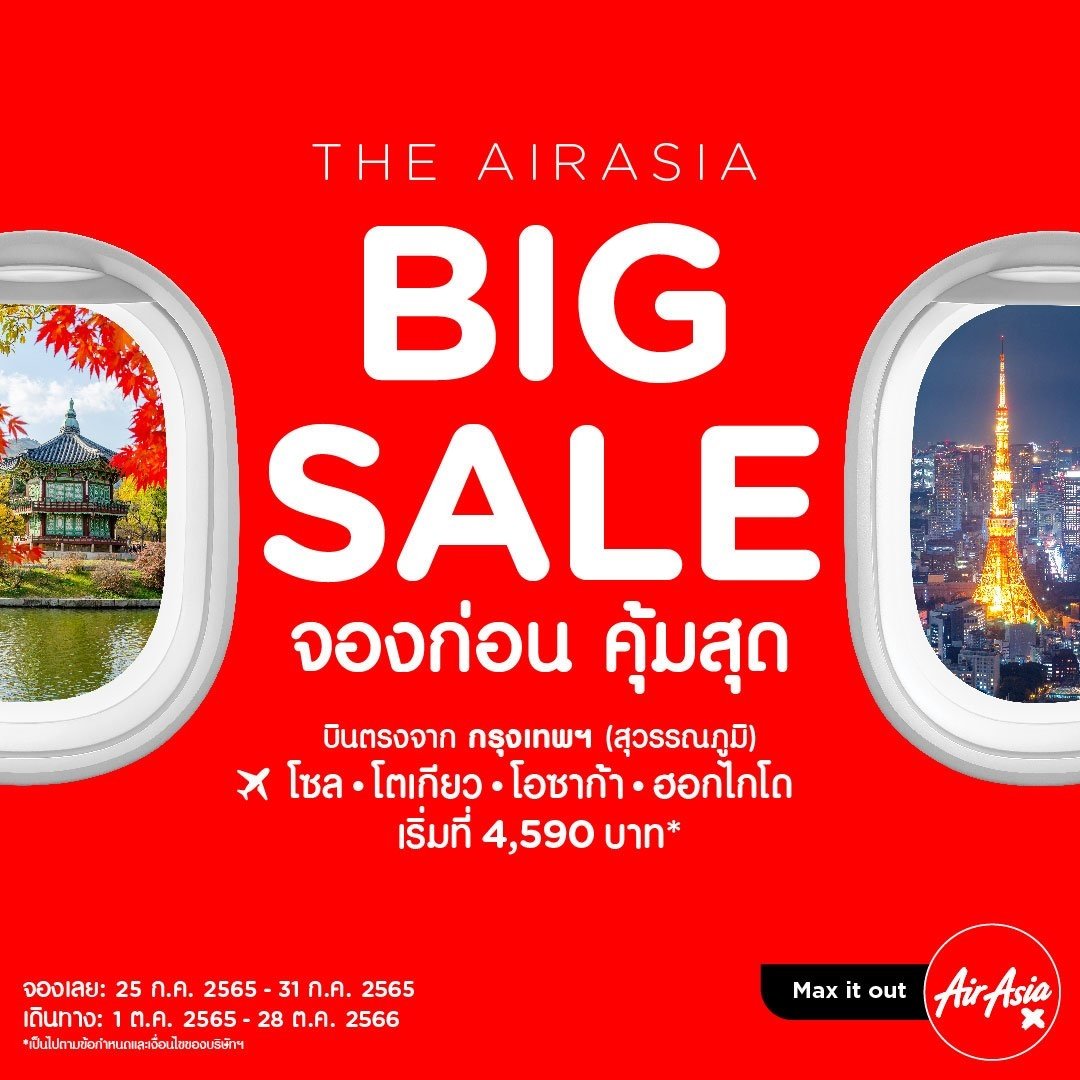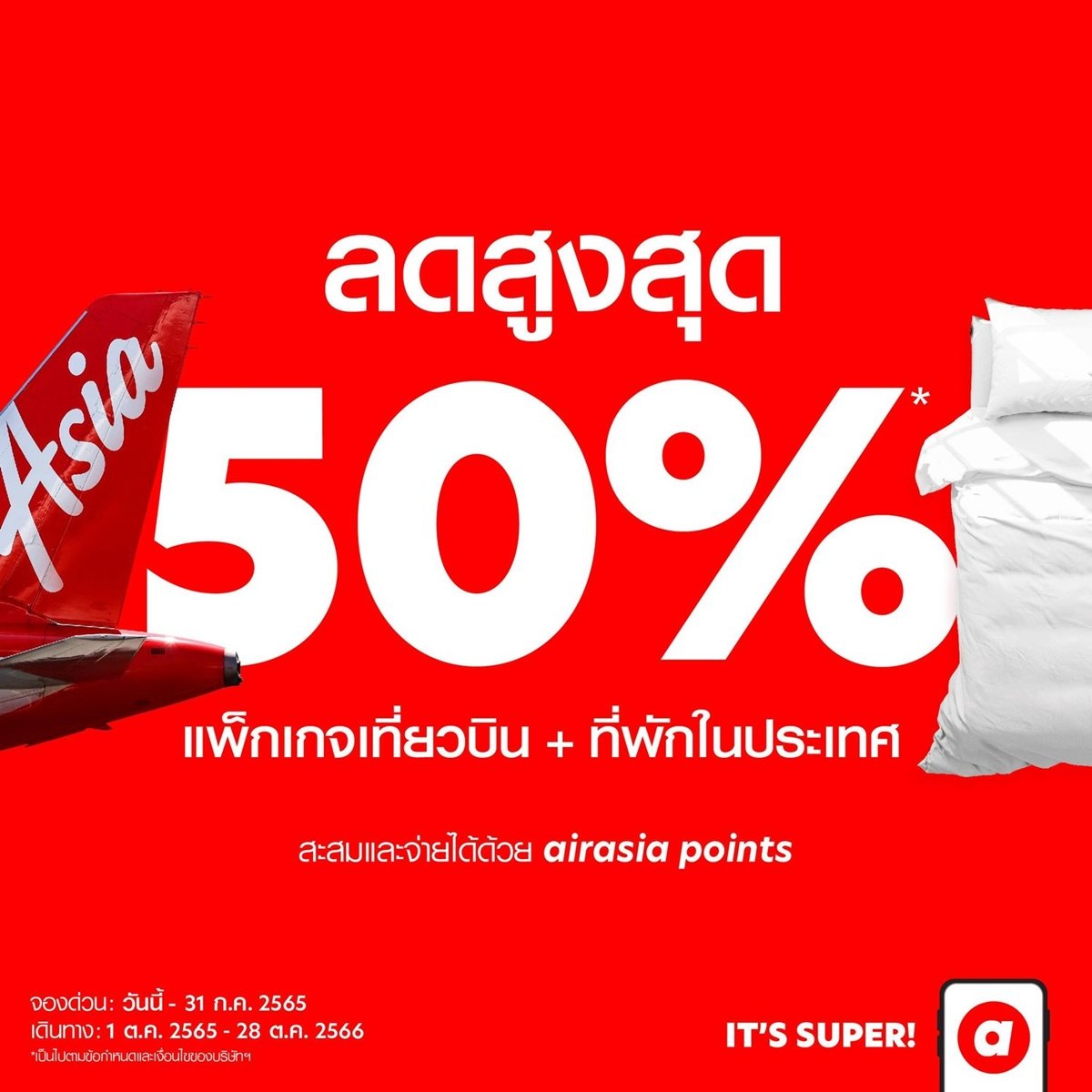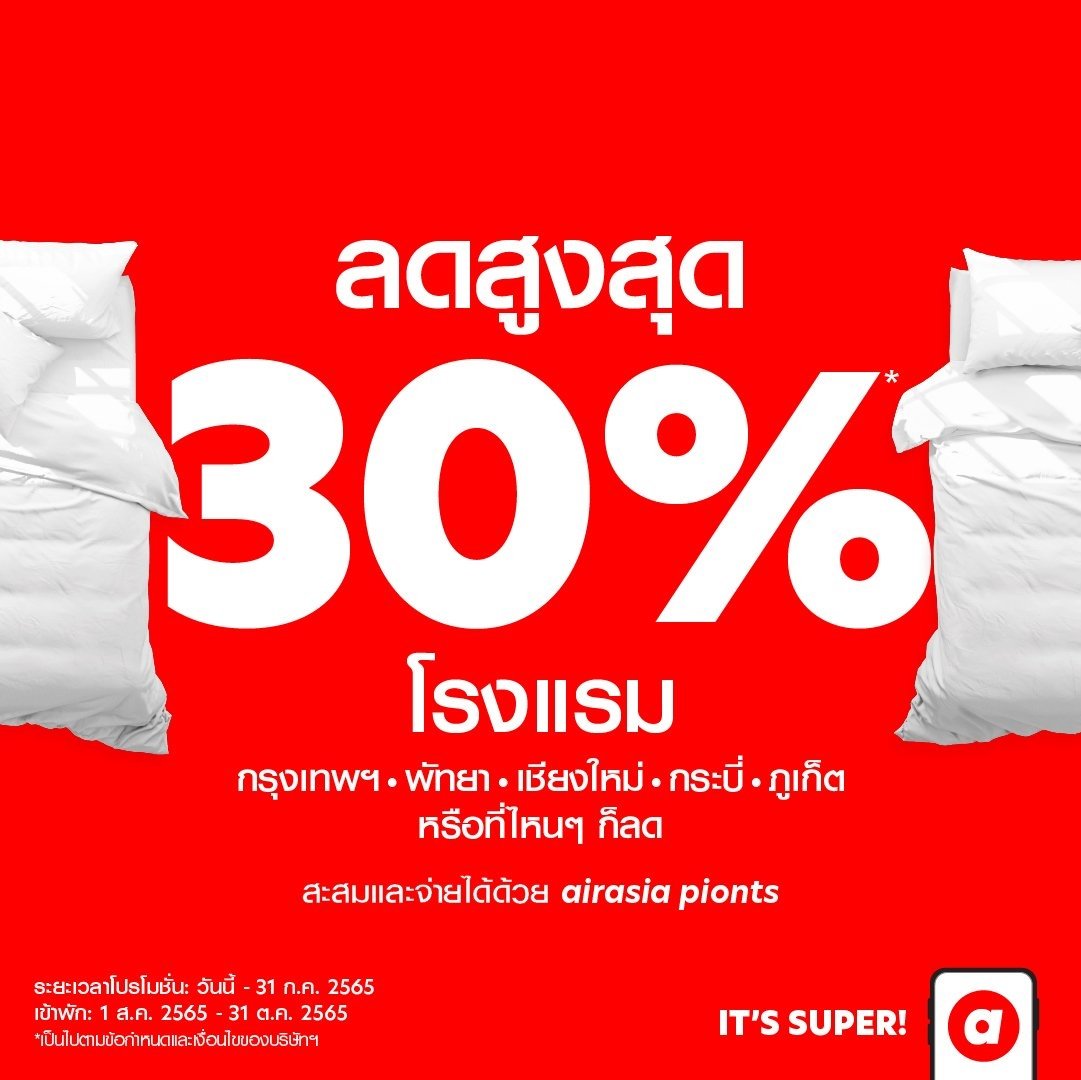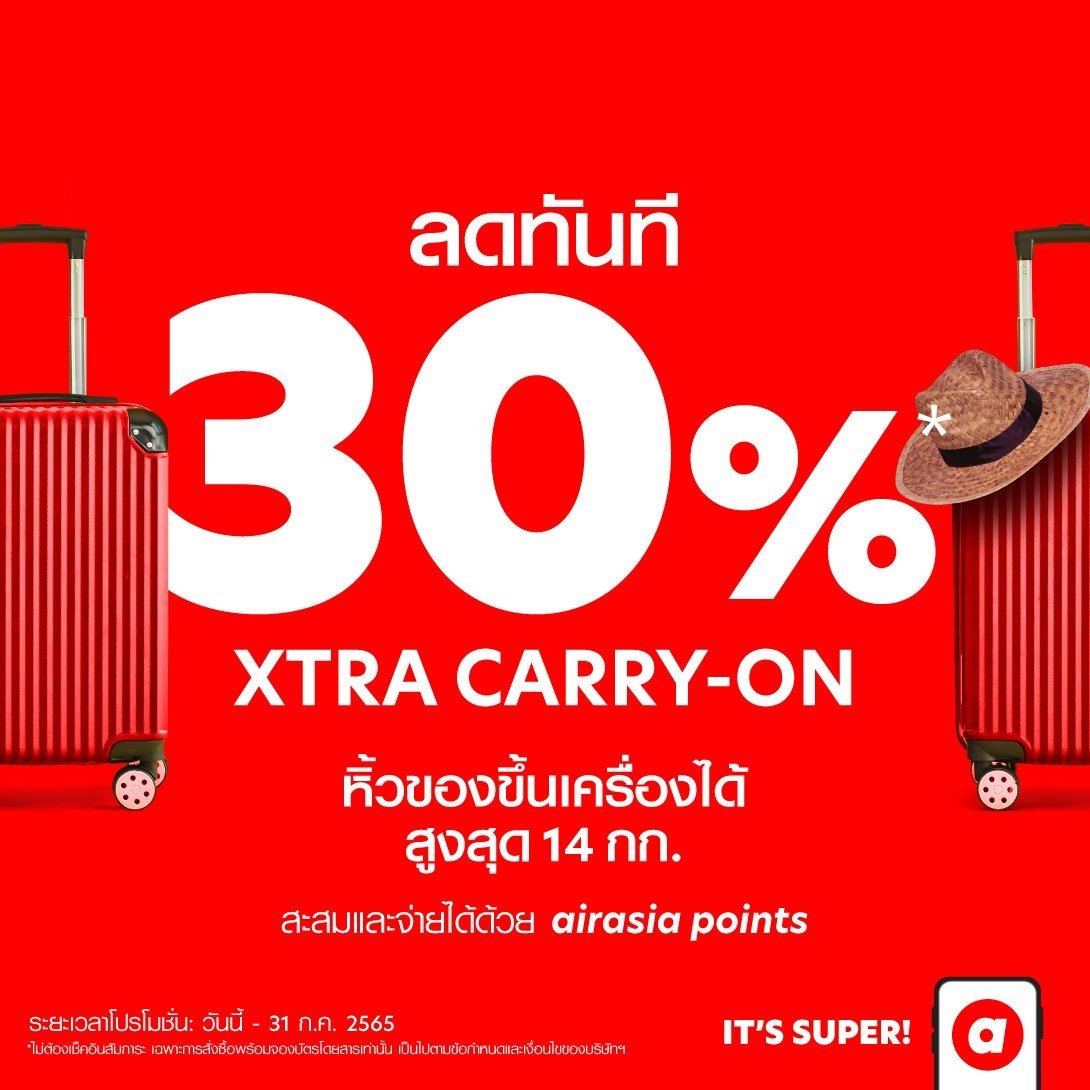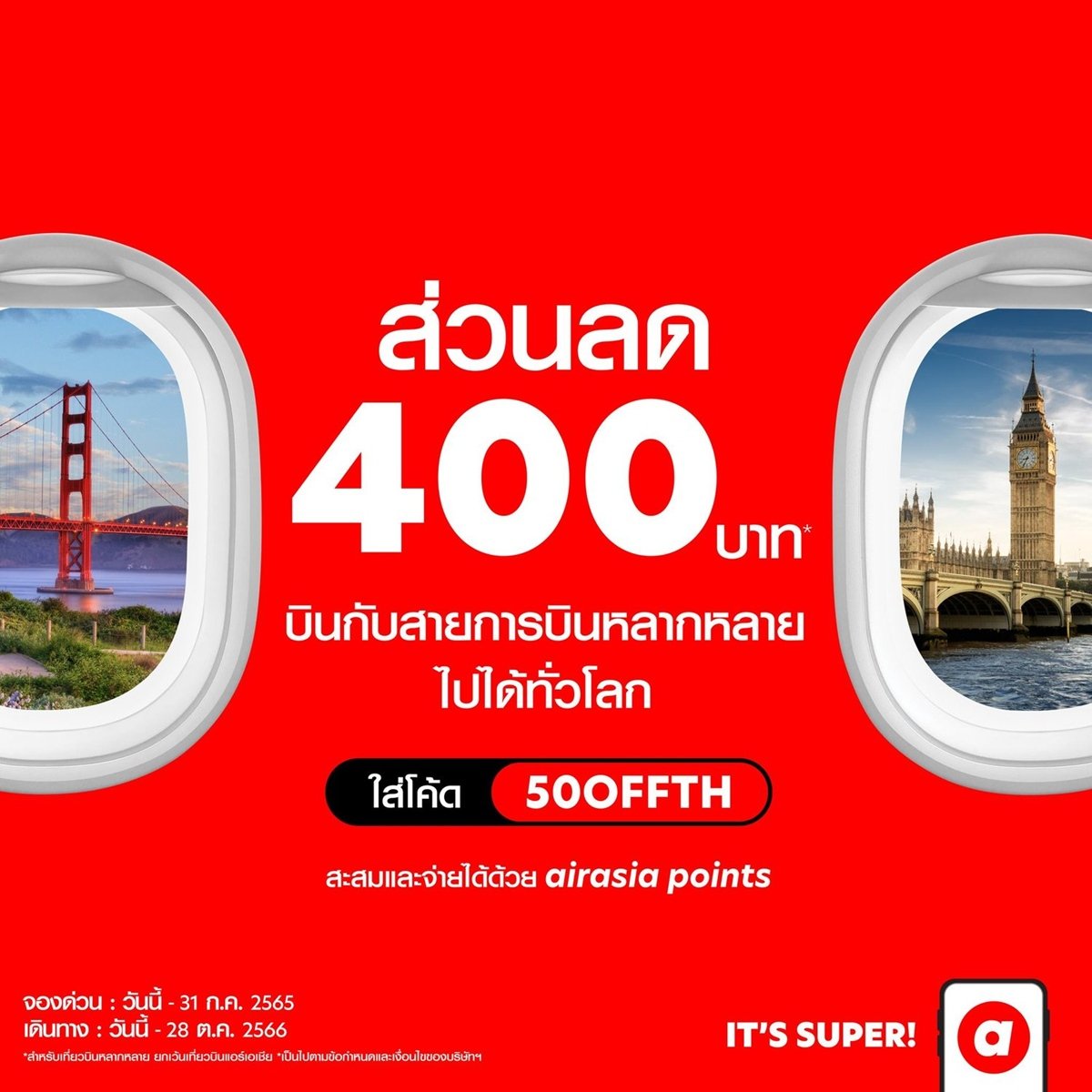 ---