Thai AirAsia Spreads its Wings across South Asia *The world's best low cost airline launches maiden flight to Dhaka of Bangladesh and Lucknow of India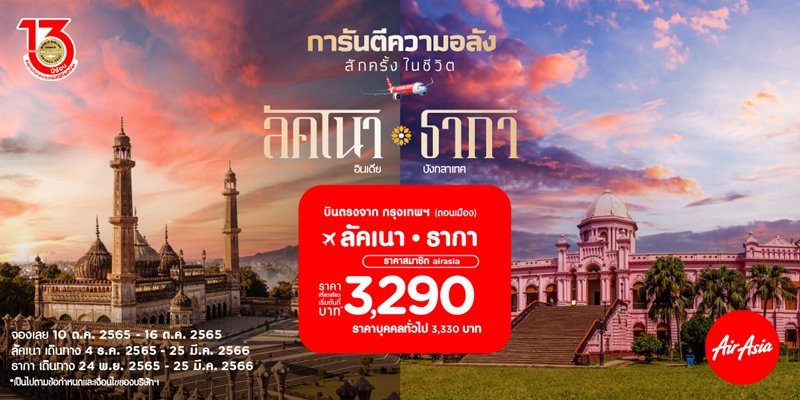 *PROMOTIONAL FARES FOR THE NEW EXPERIENCES START FROM ONLY 3,290 THB
BANGKOK, 10 October, 2022 - AirAsia Thailand strengthens its presence in South Asian markets by launching its first ever flights from Don Mueang to Dhaka, the capital of Bangladesh and the city of Lucknow in northern India.
The routes are expected to attract travelers from all over Asia to fly within the carrier's Thailand network to benefit the Kingdom's economy and introduce the colorful and rich destinations of Dhaka and Lucknow to Thai travelers. Bookings can be made through the airasia Super App.
Promotional fares for the 4x weekly Don Mueang-Dhaka flights start from only 3,590 THB per trip for AirAsia members, while the 3x weekly Don Mueang-Lucknow flights are available from only 3,290 THB per trip. Book today to 16 October, 2022 for travels between Don Mueang-Dhaka from 24 November 2022-25 March 2023 and Don Mueang-Lucknow from 4 December 2022-25 March 2022 via airasia Super App.
Mr Santisuk Klongchaiya, Chief Executive Officer of AirAsia Thailand said:"The travel appetite has improved since COVID-19 restrictions were relaxed. The South Asian markets have grown rapidly in the recent period and AirAsia now operates six routes to the region, flying Don Mueang to Kolkata, Kochi, Jaipur, Bangalore and Chennai in India and to the Maldives. All of the routes have been well received, especially by Indian travelers who have been connecting across Thailand. Data from the Tourism Authority of Thailand show the fast growing number of tourists from India and South Asia have so far visited Thailand this year and the inflow is expected to continue into 2023.
"Dhaka and Lucknow are new and exciting destinations AirAsia will be flying direct to for the first time with these additions. On top of attracting tourists to Thailand, the unique and magnificent architecture of these two cities should make them another popular aspiration for avid Thai travelers looking for a once-in-a-lifetime experience," Mr Santi said.
Dhaka is the capital city of Bangladesh and is popular among backpackers and travelers looking to head off the beaten path. Highlights not to be missed in the city include its National Parliament Building, which was designed by Louis Kahn and is one of the world's largest and most intricate architectural pieces.
Visitors can also visit World Heritage site Somapura Mahavihara, a UNESCO recognized holy site of the Buddhist faith. Direct flights to Dhaka begin this 24 November 2022.
Lucknow is the largest city of Uttar Pradesh state in India's north. The ancient city is a gateway to Nepal and is also home to sacred sites including Lumbini, Maya Devi Temple and the Pillars of Ashoka. Featuring dazzling architecture that blends Persian and European disciplines into the Mughal style, must-see attractions in Lucknow are Bara Imambara, with its breathtaking rooftop, the gateway of Rumi Darwaza and the new landmark Dr. Ambedkar Memorial. Shoppers are sure to find their delight in the Hazratganj neighborhood. Direct flights to Lucknow begin this 24 November 2022.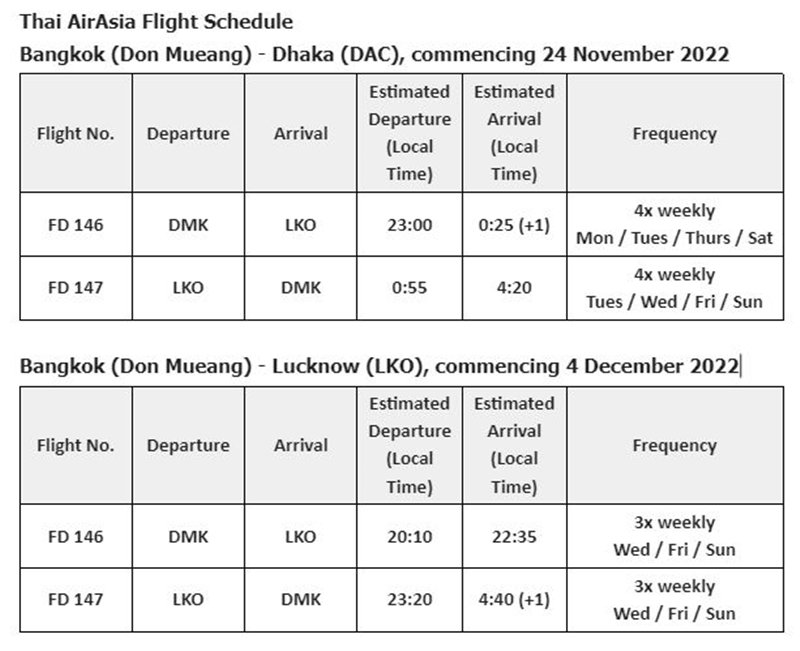 ---