airasia ride Officially Launches in Bali, Bringing a New Colour for Travellers
airasia ride strives to complete travellers' needs with an integrated 360 travel ecosystem
BALI, 17 November 2022 - airasia ride, the ride hailing service by the airasia Super App has officially launched in Indonesia, starting its journey in Bali. Since 2 November 2022, locals and tourists in Bali can book a car ride from airasia ride for a safe, affordable and integrated travel experience in one seamless application.
As part of Capital A and the AirAsia airline group, airasia ride is well-positioned to offer travellers an integrated 360 travel ecosystem where they can book flights, accommodation, merchandise and ride hailing with airasia ride for mobilisation while in the destination area all through airasia Super App.
Head of Delivery airasia Super App Indonesia, Arbi Wienandar said, "For more than two decades, over 700 million people have flown with AirAsia. Undoubtedly, we can do the same with land transportation, the airasia ride, through an integrated, affordable and inclusive digital ecosystem for everyone. The pool of rich database that we have as a travel super app is also an opportunity to enhance our customers' journey in having a great experience."
Enjoy the SUPER EXPERIENCE with airasia ride
Visitors to Bali can enjoy various exciting promos from airasia ride to complement your trip experience.

As a special treat for our maiden entry in Indonesia, airasia ride users can also earn 10x airasia points. The earned airasia points can be exchanged for transactions across all airasia Super App services and products, including airasia food, flights, hotels, travelmall and SNAP.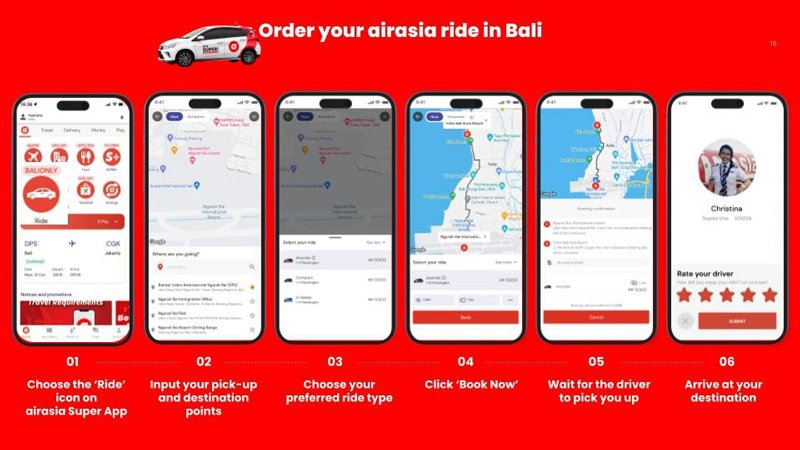 Here are the practical steps to order airasia ride in Bali:
Download the airasia Super App on the App Store or Google Play

Create a new account or login with a registered account

Click the "Ride" icon on the application's home page

Select "Now" category for on-time booking, or the "Schedule" category for scheduled booking

Enter the pick-up and drop-off point

Choose the car type (4 or 6 seaters)

Add additional address details to make it easier for drivers to find your location

Enter the voucher code in the "Use Voucher or enter code" section. Choose one of the available voucher codes, then click "Apply"

Choose your preferred payment method, either via cash or credit/debit card

Confirm the details, then click "Book" to complete the order
Download the airasia Super App and enjoy the SUPER EXPERIENCE with airasia ride!
---