Thai AirAsia remains Thailand's Most On-Time Airline Ranks 4th Worldwide among all airlines, 2nd among LCCs by OAG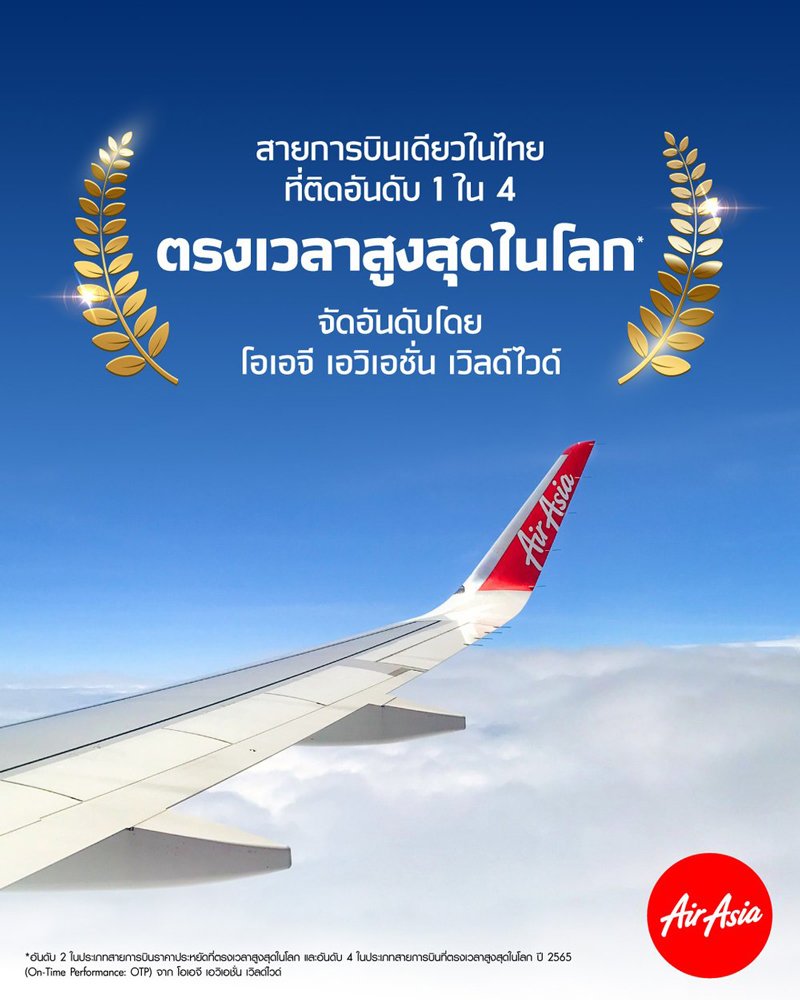 BANGKOK, 19 January 2023 - Thai AirAsia (FD) continues its leadership by ranking among the most on-time airlines in the world with a 92.33 percent on-time performance (OTP) rating, making it the "Highest Ranked Airline in Thailand for OTP" according to statistics collected over 2022 by OAG, the world's leading provider of digital flight information, intelligence and analytics for airports, airlines and travel tech companies.
Thai AirAsia ranked among the top airlines in the world for on-time performance in multiple categories in 2022:
4th in Top 20 Airlines by OTP up from 11th in 2019 before COVID-19

2nd in Top 20 Low-Cost Carriers by OTP up from 3rd in 2019

2nd among Asia Pacific Airlines by OTP up from 9th in 2019
Mr. Santisuk Klongchaiya, Chief Executive Officer of Thai AirAsia, welcomed Thai AirAsia's ability to place among the top of every aviation industry institution's on-time performance ranking released at the start of 2023, noting in particular the carrier's improved rankings on the World's Most On-Time Airlines lists by OAG compared to 2019. He underlined that Thai AirAsia remains the most on-time airline in Thailand with an OTP rating of 92.33 percent.
"At the beginning of January, Thai AirAsia was named among the top 3 low-cost carriers for on-time performance as ranked by Cirium. Just a week later, we placed among the top 4 in the world according to OAG, which also considers full service airlines. The rankings affirm our never-ending efforts to improve our services and standards. I thank all our staff in every department for their teamwork and commitment to their duties as they made our OTP possible and continue to give a wonderful impression to AirAsia passengers" Mr. Santisuk said.
OAG defines on-time performance as a flight arriving within 15 minutes of its schedule. Cancellations are considered not on time. OAG is a leading and credible institution that ranks airlines and airports for on-time performance.
---