AirAsia to Fly Direct Bangkok-Colombo Visit Hip and Cultural Sri Lanka with 4 Flights per Week Promotional Fare Starts from Only 2,990 THB*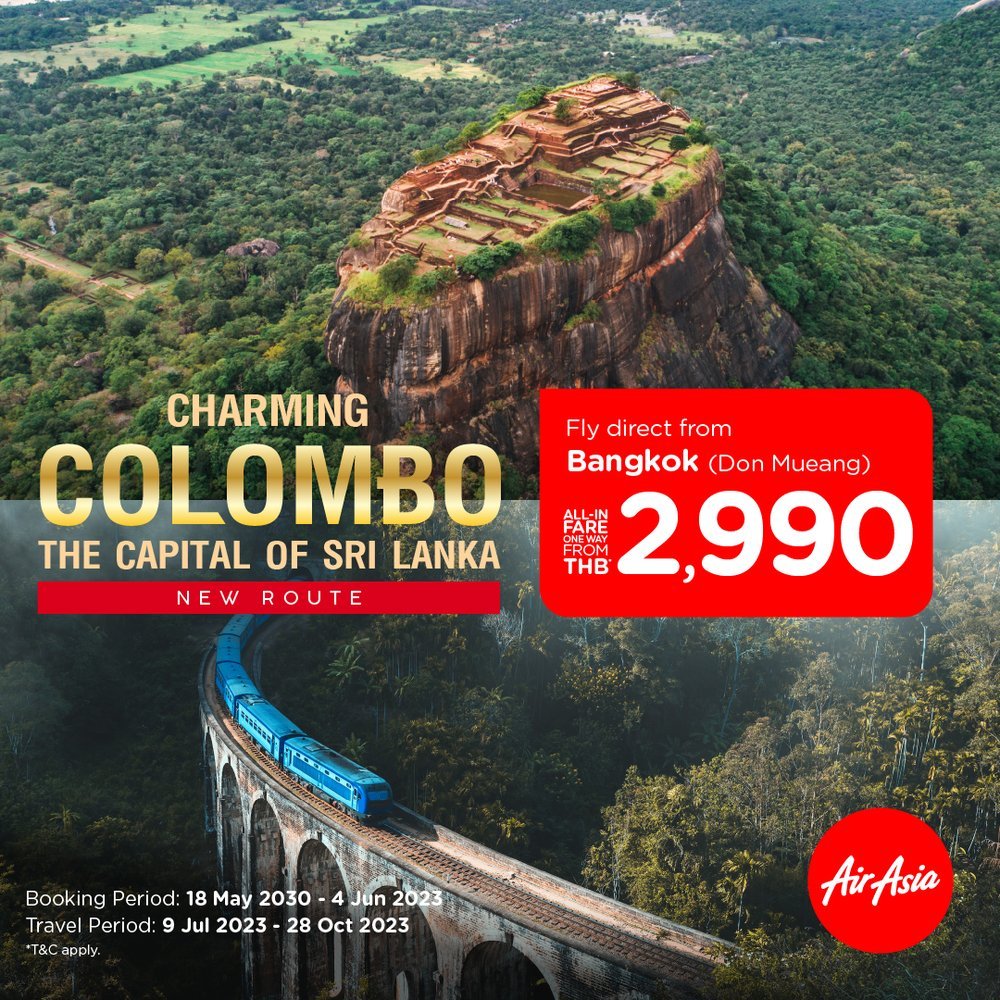 BANGKOK, 18 May 2023 - AirAsia launches a new route, flying four times a week from Bangkok (Don Mueang) to Colombo, the capital of Sri Lanka. On top of being a destination of Buddhists worldwide, the nation is also a place of wonderful nature and impressive ways of life waiting to be explored. Fly direct with AirAsia with fares for members starting at only 2,990 THB* per trip. Book today-4 June, 2023 for travel from 9 July-28 October, 2023 via airasia Super App or www.airasia.com
Mr. Santisuk Klongchaiya, Chief Executive Officer for AirAsia Thailand, said: "Sri Lanka offers many interesting and novel experiences for Thai travelers, giving it significant potential as a destination. He noted that with the travel market growing at its full potential and travelers now able to easily find information on unique and attractive sites, this latest route from Thai AirAsia is sure to be well received by both Thai and international tourists. Sri Lankans will at the same time have the opportunity to learn more about Thailand and travel to the Kingdom for shopping. The new route launches in time for the latter-year travel season of Sri Lanka and should be vibrant.
AirAsia has been operating out of Colombo International Airport for close to 10 years with the Kuala Lumpur-Colombo route and is well known in the market. More investment in marketing is to take place in Sri Lanka to further strengthen the brand and attract Sri Lankans to fly with AirAsia.
"Sri Lanka has always been a popular place for faithful Buddhists to visit with many sites for them to pay respects. The nation is home to a wealth of famed religious locations, many registered as World Heritage Sites, including Sri Dalada Maligawa in Kandy, where one of only two tooth relics of the Lord Buddha is believed to be kept. Apart from these impressive holy sites, Sri Lanka is also blessed with natural and cultural attractions, including an enchanting local way of life ready to be experienced. Sri Lanka is sure to present visitors with unexpected wonders" Mr. Santisuk said.
The South Asian country of Sri Lanka is important to the Buddhist faith while also featuring pure natural attractions. The train route from Kandy to Ella is considered one of the most scenic in the world as it carves through valleys and tea fields. Tourists are invited to view the Ceylon tea cultivation process, take in the fields of Nuwara Eliya or head to the coastal town of Galle to see the Dutch influence in its century old architecture. For thrills, visitors can witness Sri Lanka's unique stilt fishing or head to Yala National Park for a safari of rare animals and the nation's abundant population of leopards.
Bangkok (Don Mueang)-Colombo, Sri Lanka is to be served by AirAsia four times a week on Monday, Wednesday, Friday and Sunday. Flight FD140 departs Don Mueang Airport (DMK) at 19.45 hrs to arrive at Bandaranaike International Airport (CMB) in Colombo, Sri Lanka at 22.00 hrs. Returning flight FD141 departs from Colombo at 23.00 hrs to arrive at Don Mueang at 04.05 hrs of the next day.
During the introductory period of Bangkok-Colombo, AirAsia members can fly a promotional fare starting from only 2,990 THB* per trip. Book today-4 June, 2023 for travel from 9 July-28 October, 2023 via airasia Super App or www.airasia.com. The route launches 9 July, 2023.
*Starting fare (single) available to registered AirAsia members only and is inclusive of airport tax but excludes auxiliary services, credit, debit and charge card fees. Terms and conditions apply.
*Promotional fare only for FD flights (frequency may differ depending on week). Promotion availability is limited and excludes long weekends and holidays. Fare does not include auxiliary services and fees. Terms and conditions apply.

---