AirAsia to fly direct new Hat Yai-Singapore route Enjoy great value, punctual and fun trips from Only 1,490 THB one way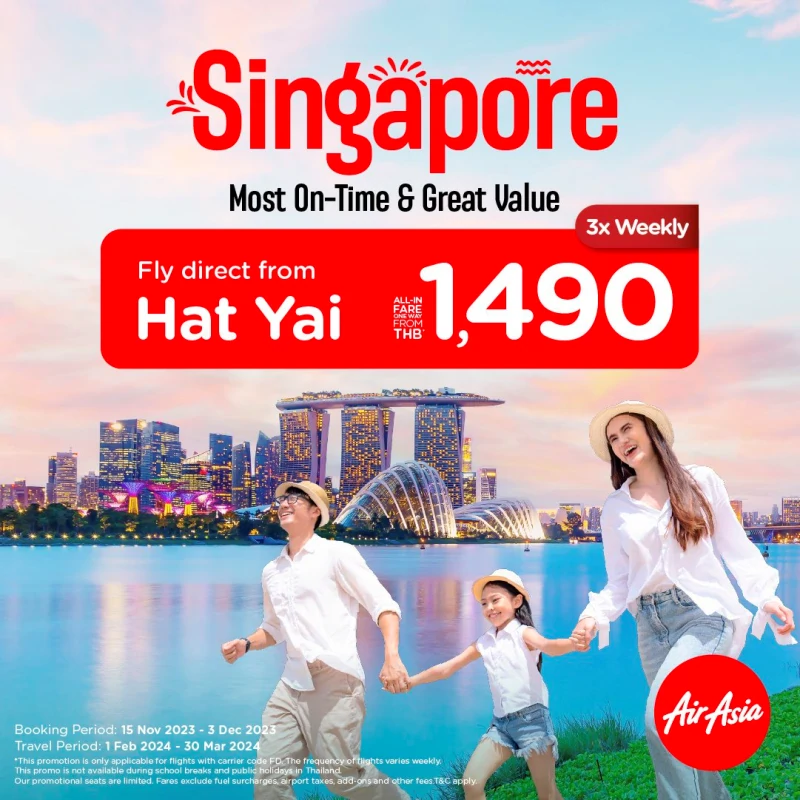 BANGKOK, 15 November 2023 - AirAsia is introducing its latest new route between Hat Yai and Singapore, flying three times a week on every Tuesday, Thursday, and Saturday beginning 1 February 2024.
Travelers from Hat Yai, Songkla and the Southern part of Thailand can now visit the island city of Singapore faster and at better value. Book from today (15 Nov 2023) for flights departing from 1 February, 2024 that will connect Thailand's south to an international tourism hub. Experience Singapore with better value by flying with AirAsia.
Ms. Tansita Akrarittipirom, Head of Commercial for AirAsia Thailand, said: "The new route will connect the Thai south's economic center with one of the most important cities in ASEAN, bringing another travel option that saves on time and cost.
"Many people associate Singapore with higher-priced travel but the nation does offer affordable options too. . Singapore has many quality hotels that are resonably priced, Michelin-recognized cuisine at its hawker centers and even beautiful attractions that are free to enjoy and photograph, " Ms. Tansita said.
AirAsia sees the route as a great opportunity for Hat Yai to welcome international visitors from Singapore, further boosting tourism and economic activities in the region. .
Hat Yai is a major city of the Thai south located in Songkla province, which serves as a hub for trade and commerce as well as travel in the region. Kim Yong Market and ASEAN Night Bazaar are two of the city's destinations for shopping that attract people from across Southeast Asia, who also enjoy seeing Songkla Old Town, taking in views from the Hat Yai Cable Car, visiting Songkla's signature Ton Nga Chang Wildlife Sanctuary or being excited by the Golden Mermaid statue on Samila beach.
Celebrating the new route, AirAsia is offering flights from only 1,490 THB for a one-way trip. Book from 15 November 2023 to 3 December 2023 for travel from 1 February – 30 March 2024 via airasia MOVE (formerly airasia Superapp) or www.airasia.com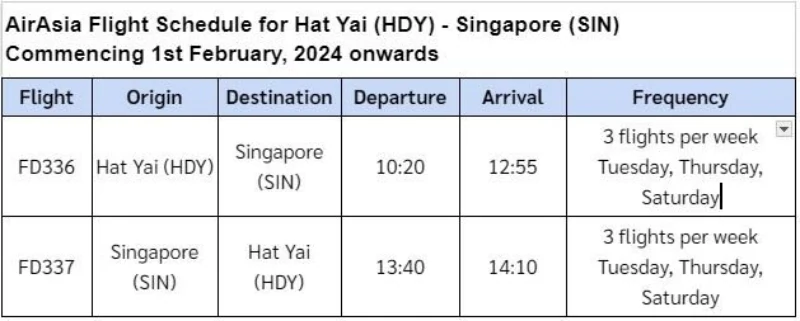 ---