AirAsia Thailand Increases frequency for domestic service to cater for year-end season Chiang Mai leads with 18 Flights from Bangkok Daily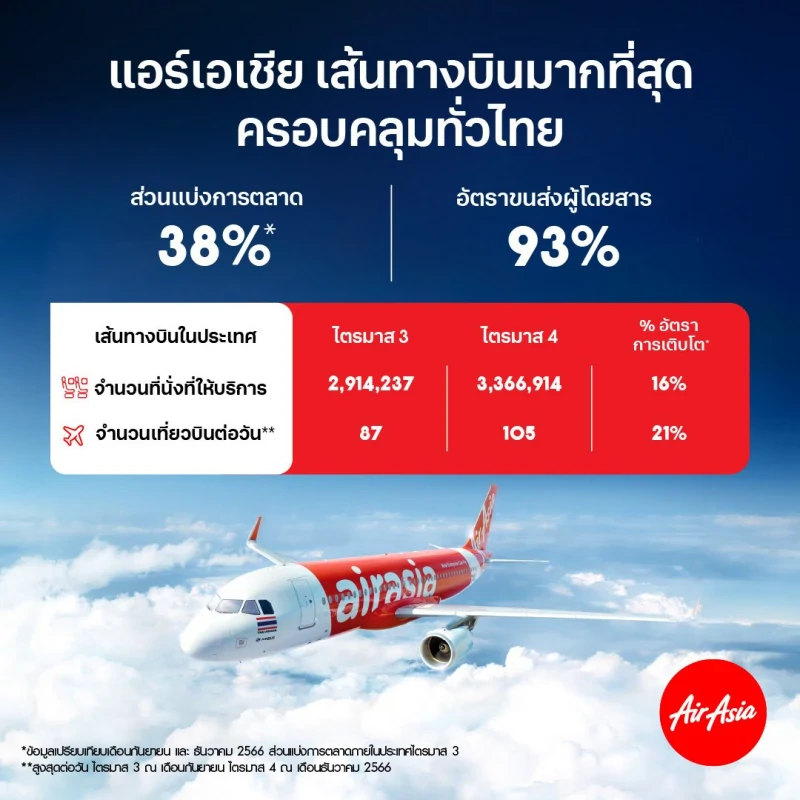 BANGKOK, 17 November 2023 - AirAsia Thailand (flight code FD) is reinforcing its position as the airline with the widest network and highest frequency in Thailand by increasing the frequency of 14 popular domestic routes during the fourth quarter to cater to the year-end holiday season.
A total of 18 daily flights will be added to the service, an increase from 87 to 105 domestic flights per day. The airline has been experiencing a Load Factor average of 93 percent for its domestic service in the third quarter and aiming for a high of 95 percent during the final quarter.
Ms. Tansita Akrarittipirom, Head of Commercial, AirAsia Thailand, said: "The fourth quarter is a key travel season, when many Thai travelers choose to travel domestically. At the same time, VISA Free schemes by the government for select groups of visitors, particularly those from China, India and Taiwan, will align with AirAsia offering a wide array of routes. Increasing frequency during the quarter is expected to attract even more foreign tourists to Thailand.
"We will be expanding domestic flight frequencies during the end of year period to meet the demand and the growing tourism trend. Thai AirAsia has almost returned to its pre-pandemic seat capacity and our operation out of the two airports of Don Mueang and Suvarnabhumi in Bangkok to top destinations such as Chiang Mai, Phuket and Krabi mean we can provide attractive travel options to all our guests," Ms. Tansita said.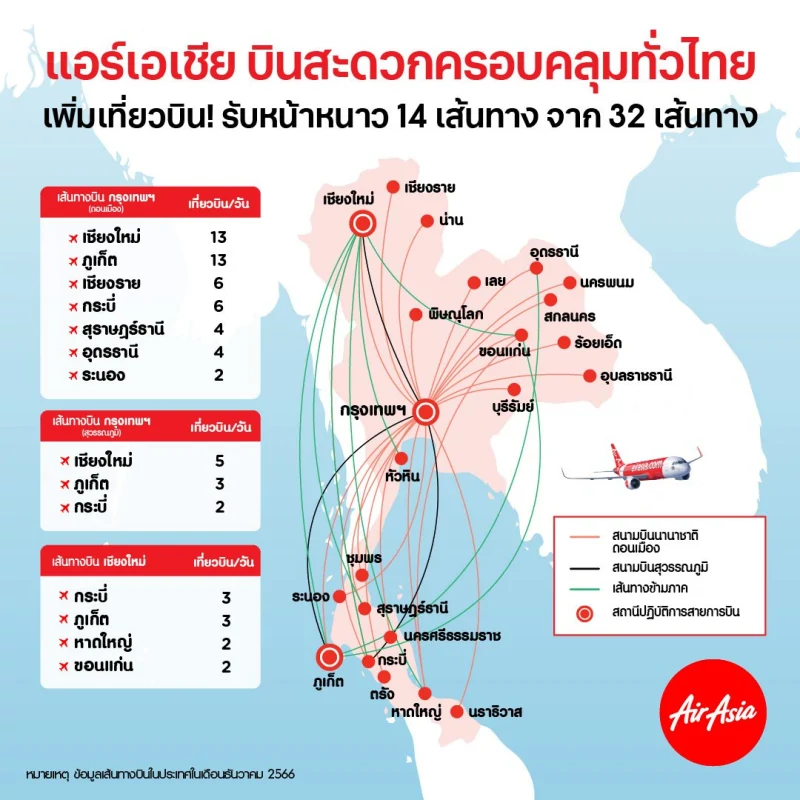 At present, AirAsia Thailand operates a total of 32 domestic routes, including 24 routes from Bangkok and 8 regional routes. The carrier's highest frequency domestic routes are Bangkok-Chiang Mai, flying up to 18 times a day (13 flights from Don Mueang and 5 from Suvarnabhumi), Bangkok-Phuket, flying up to 17 times a day (13 flights from Don Mueang and 4 flights from Suvarnabhumi) and Bangkok-Krabi, flying up to 8 times a day (6 flights from Don Mueang and 2 from Suvarnabhumi).
In Q4/2023, Thai AirAsia will increase frequency on its 14 domestic routes (compared to Q3):
Bangkok (Don Mueang) to
Chiang Mai, from 11 to 13 flights a day
Phuket, from 11 to 13 flights a day
Chiang Rai, from 4 to 6 flights a day
Krabi, from 5 to 6 flights a day
Surat Thani, from 3 to 4 flights a day
Udon Thani, from 3 to 4 flights a day
Ranong, from 1 to 2 flights a day
Bangkok (Suvarnabhumi) to
Chiang Mai, from 3 to 5 flights a day
Phuket, from 3 to 4 flights a day
Krabi, from 1 to 2 flights a day
Chiang Mai to
Krabi, from 1 to 3 flights a day
Phuket, from 2 to 3 flights a day
Hat Yai, from 1 to 2 flights a day
Khon Kaen, from 1 to 2 flights a day
---